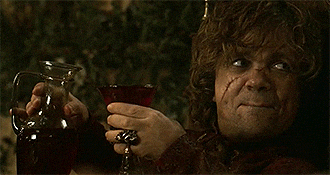 Gather 'round, Khals and Khalessi, Ladies and Sers. Game of Thrones returns after its hiatus to whisk us back to Westeros this evening and our respective water coolers on Monday.
The blood, the magic, the palace intrigue – they give welcome respite from the Drogon-ing of our country's democracy. (And what I wouldn't give to watch a face to face between Our Dear Leader and Lyanna Mormont…)
With Season 7's premier in the offing, I got a text from my good friend The Wizard of Covington a couple of weeks ago that read "Winter is Coming" next to a picture of a bottle of Game of Thrones red wine. I did a little research and was able to make contact with my friends at Folsom, who are heading up the PR for this new label, and they were goodly enough to get me a couple of bottles to sample in time for the premiere.
Game of Thrones Wines are produced by Vintage Wine Estates – the California company behind Cosentino, Firesteed, Middle Sister, and many other brands. They make three versions of GoT wine – a Chardonnay from California's Central Coast and a red blend from Paso Robles, both of which retail for around $20, and a Napa Valley Cabernet Sauvignon, which retails for $50.
My samples were of the first two. How were they? Well, as they say around (what's left of) King's Landing…


"Valar dohaeris:"
Game of Thrones 2016 Chardonnay – This Chardonnay started out very floral, likely from the 10% Riesling blended in. I thought it smelled like peach ice cream next to a bouquet of wildflowers. The Chardonnay/Riesling interaction creates a pleasant, integrated set of flavors. Mouthfeel wise, there's a bit of "stickiness" that comes from a Riesling, with a little accompanying apple-y sweetness. The Chardonnay creaminess and lemon flavors come through secondarily as the acidity kicks in. The finish is a bit on the fruity side, with the peaches returning, followed by a bit of lemon peel. Really not much oak to be found anywhere, other than at the tail, tail end of the finish. My guess is that this would be a crowd-pleasing white – the perfect sort of thing for a watch party – but it's not one that I'd probably snag just for general consumption. The Sweet Partner in Crime thought that the wine was one of the better Chardonnays that she'd had in a while. She really liked the floral/fruity combination, saying that it reminded her a lot of a Viognier. I wasn't quite as keen on it, but I certainly thought it was decent.
Game of Thrones 2015 Red Wine – When we first really got into wine tasting, we loved big reds. Back then, this field blend of Malbec, Tempranillo, Zinfandel, Petit Sirah, and Syrah from Paso Robles would be been right in our wheelhouse. "This wine would have been my jam," said the SPinC, "and now it's just jam." She's not kidding. This full-blooded, fruit-forward inky monster wouldn't be out of place on a table with roasted joints of meat and mince pies. You want extracted blackberries and dark cherries? Check. You want tannins chewy as an old waterskin? Bingo. You want some vanilla and pepper in your finish? Aye. That's your quaff. If you want to understand the XY side of the "masculine vs. feminine" wine divide, try this one. The testosterone level matches the alcohol. While it was too much for the SPinC's pinot-loving palate, I thought it was a pretty strong offering for what it was – a wine that will pull your attention back from the screen to let you know you're drinking *wine*. For science, I had this next to a strip that I bought from the local butcher. It was as good as you might expect.
While these wines may retail for around $20, your wine stores will probably be running specials on them not long after the premiere. Bottom line – they're pretty solid wines, but they're hardly subtle. But who watches GoT for the subtleties, I ask you?
So, saddle up with Dany as she gets across the Narrow Sea, pour yourself a flagon or tankard of your choice, and return to one of the last instances of "appointment television" that we still have left. Enjoy, and try your best to be nice to that guy yelling "NO SPOILERS! NO SPOILERS!" from a few cubes down and the bummed out lover of the novels who can't hit you with a "You know nothing" anymore.